Actually dating back to 2009, during an evening of post hard ride, the two founders of Catalina sat around enjoying a home brew called 0200 (0h-two hundred in military time.) This led to a plan to found a micro brewery. Since they were also bicyclists, the theme of the place was also pretty clear. Bicycle fuel.
Catalina has a steadily rotating offering of craft beers and seltzers on tap, plus other mixed drink selections available. Food trucks vary by the week, but Catalina also partners with the Jersey Grill, and keeps a list of local restaurants happy to deliver. For a full layout of their many entertainment options during the week, check out their website ( http://www.catalinabrewingco.com/ ) or their Facebook page. You can also call Catalina at 520-329-3622 with any questions.
If you are old enough to remember pinball machines, you really must check out the back room at Catalina. They have a vast collection of machines lined up and ready for you. If you are a souvenir collector, Catalina has a listing of available swag from typical brewery stuff, t-shirts and even bicycle jerseys.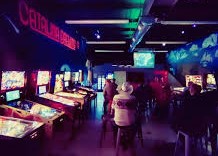 From Marana, take I-10 South to Ina Road, exit and drive East on Ina to Camino San Martin. Just before you reach the end of the road, turn left and you can't miss it. Catalina Brewing is located at 6918 Camino San Martin, Tucson, AZ 85741.
The closest neighborhoods to Catalina Brewing are Oshrin Park, Willow Ridge and Willow Ridge Commons.
Always On Call!
Put my 20+ years of real estate experience to work for you!
Contact me 7 days a week including evenings to discuss real estate.

www.TucsonAreaHouses.net