Though the stream in Pima Canyon is dry for most of the year, it supports an excellent example of a desert riparian habitat located conveniently close to the Tucson metropolitan area. Unfortunately, that accessibility has resulted in significant overuse of this beautiful and fragile area, especially during the winter, its season of highest use.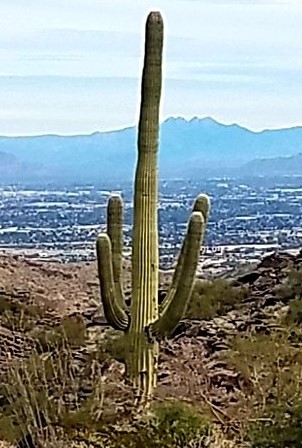 From the trailhead, located among suburban ranchos, the trail ascends a V-shaped notch carved along the south face of Pusch Ridge. Views down the canyon get better as you climb, encompassing the city of Tucson as well as distant mountains and valleys. The riparian area on the floor of the canyon provides excellent bird-watching for a wide variety of resident and migratory species that make use of this most productive of all desert habitat types. Other desert creatures you may encounter in this area include javelina and jackrabbits, but the real viewing prize of Pima Canyon and the entire Pusch Ridge area are the desert bighorn sheep that maintain a surefooted existence here among rocky crags and rugged canyons.
Beyond Pima Spring, the trail becomes steeper and harder to follow as it continues to climb to the upper slopes of Mt. Kimball. Incentives for persevering here are good views of Window Rock and Cathedral Rock.
Trail #62 ends at its junction with the Finger Rock Trail #42.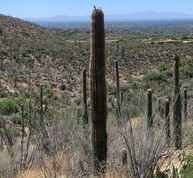 This is all part of a Wilderness Area, so no dogs are allowed here, leashed or not, nor are any motorized or mechanized vehicles, including mountain bikes. As with all desert adventures, bring and drink plenty of water, and wear good trail shoes or hiking boots, wear a hat, cover your neck, bring and use lots of sunscreen, and always, always let someone know where you are going and when you plan to be back.
From Marana head east on I-10,and exit eastbound onto West Ina Road, which will turn into North Cobblestone Road.
The closest Marana neighborhoods to the Pima Canyon Trail are La Mirage Estates, Gladden Farms, and Vanderbilt neighborhoods.
Always On Call!
Put my 20+ years of real estate experience to work for you!
Contact me 7 days a week including evenings to discuss real estate.

www.TucsonAreaHouses.net