With a 17+ year history of offering swimming lessons and aquatic therapy in Tucson, Saguaro Aquatics has opened a brand new facility in Marana on Thornydale Road. The youth swimming lesson portion of their schedule is currently booked full, but there are many openings for aquatic therapy available. The list of issues that aquatic therapy can help with is extensive and proven. Keep reading to see the short list. Saquaro Aquatics offers group classes, which max out at safe numbers, but also provides individual sessions for those who require closer assistance. The goal is always to move up to the group classes as clients' conditions improve.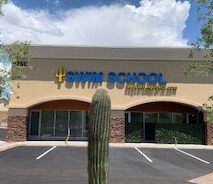 Saguaro's all-new facility in the Thornydale Village shopping center at Thornydale and Overton Rd. is literally brand new. All new pool, dressing rooms, toilets, office space, etc. All new crew as well, but hired with the same protocols and procedures that have served them so well at the original Saguaro Aquatics on Pima and Beverly in Tucson. The facility includes showers to wash off the warm salt water, changing booths so you don't have to drive home wet, and includes two men's, two women's and an ADA compliant Handicap Restroom.
So, what medical conditions or issues can Theraquatics help you with?
How about:
Rheumatoid, Osteoarthitis, Gout and other chronic pain and/or inflammation diseases.
PTSD (Post Traumatic Stress Disorder)
Stroke Recovery (See the video in the link below)
MS (Multiple Sclerosis)
Joint Replacement Recovery or Surgery Preparation
Mobility and/or Balance
Posture Recovery
Spinal Disorders (Including Spinal Stenosis- Sub Acute or Chronic)
ALS or Parkinsons or other neurological disorders
Peace of Mind in Stressful Times (Maybe the most common right now)
The facility offers a chair lift to help clients who require assistance into and out of the pool.
Take a look at their website, check the Wellness drop down menu to learn just how valuable their service can be. https://www.saguaroaquatics.com/wellness-aquaticss/
What types of aquatic classes does Saguaro Aquatics offer? If you need some aerobic exercise, perhaps to help with heart or lung issues, Saguaro offers an excellent 45 minute program of aerobics, which, given the 80% reduction in gravity, is even more productive than any land based program, when you add in the water resistance. An added benefit is the greatly reduced pounding of the hip and knee joints.
Need some work with stretching, balance and breathing? Try the Theraquatics classes. Start out with some controlled breathing of salt water purified air. Add some gentle warm up exercises of all the joints and muscles in your body to get them comfortable and ready. Then, work the 8 muscles attached to each of your eyes. Finally you are ready for a bit of aerobic exercise, some core work and a gentle cool down.
Like so many of us these days, is your brain spinning at 100 mph? Want to just slow things down, breathe and stretch a little and work on balance. You really need to try the Ai Chi class! First Ai Chi classes at the Marana facility will be entry level, but most students quickly are ready to add more to the program. Participants typically confirm that the sense of peace earned through the class stays with you most of the day and into the next day.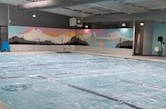 Saguaro Aquatics takes great care to avoid any Covid issues. Since the initial outbreak, due to the meticulous precautions taken by the facility and the clients, not one person has had a Covid infection tracked back to the facility.
When the original pool (on Pima Street) re-opened in May 2020, the adult clients in the Theraquatics Program developed very close relationships due to it being not only a physical therapy venue, but a social club as well. As you may well guess, there is no reason to doubt the very same will be true at the new Marana facility.
Check their website for information on renting the facility for private parties as well.
While Saguaro cannot bill your insurance or Medicare directly, you should inquire as to the possibility of submitting your receipts to the company for reimbursement if your medical provider writes a prescription.
The new office is now open at the Northwest Saguaro location. The phone number (520-638-8040) is the same for both locations, with a pick 1 or pick 2 to choose which office you speak with. Office personnel at either location can help with any questions or with enrolling.
Saguaro Aquatic's brand new facility is located at 9260 N Thornydale, Tucson, AZ 85742 in Thornydale Village Shopping Center, Marana, AZ. This puts them within walking/driving distance to multiple Marana neighborhoods, to include: Park Lane, Overton Heights, Ironwood Meadows, Saguaro Vista, Ironwood Acres, Dateland and Northpointe Ridge and more.
Always On Call!
Put my 20+ years of real estate experience to work for you!
Contact me 7 days a week including evenings to discuss real estate.

https://www.facebook.com/RichmanTucsonHomes/